Private Pensacola Mountain Bike Tour Details
Red Rock Area
The tour can be as long as 12 miles of meandering single-track with gentle climbs and descents through a long-leaf pine forest. This can be either a private guided tour or a DIY tour. The tour begins at the Red Rock Bridge trailhead which is along beautiful Juniper Creek. Juniper creek is a favorite among kayakers. It flows steadily with crystal clear water and large white sandbars around every turn. It makes for an excellent place to begin and end a ride. You can choose to ride the 4-inch tire Fatbikes or traditional hardtail mountain bikes. Helmets, gloves and hydration packs will be provided. In the warmer months, the tour departs as early as you can do, as the heat gets intense quickly in the Florida sun. This is an off-road, narrow trail ride and you should have basic off-road riding skills, and you should be in moderately good shape because you will get a workout. There are gradual inclines and when combined with Florida heat can take a toll on your legs. We take no more than 4 guests per tour. The tour will take about 2 hours to complete, but could take longer depending on how many stops and of course, the length of trip. At the end of the ride you can hang out on a secluded white sand bar along beautiful Juniper Creek and have a snack or take a dip in the water to cool off, or both! Thanks for choosing Hamilton Mountain Bike Tours as part of your vacation.
Tour vital stats
Length: 4, 6, 8 or 12 miles
Elevation Change: Moderate
Level: Intermediate
Location: Milton, FL
Singletrack: 98%
Trail: dirt & Pine needle covered dirt
Trail Map: View Map ››
Trailhead: See map below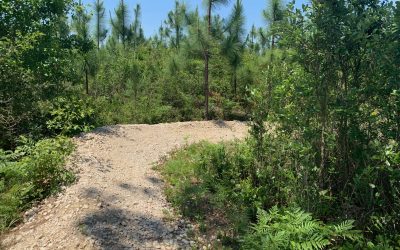 Now there is an option in the Pensacola area for the more avid mountain biker besides the UWF trails. And while I offer UWF as a rental delivery option I do not offer the guided option, but these trails I do. And I recommend it as such, as it is a little bit of a...
read more