DIY (Discover it Yourself) Pensacola Bike Tour Details
History & Brews Tour
This DIY (Discover it Yourself) tour can be of varying lengths depending on how long you want to ride and how many stops you make. This tour is all about just relaxing and going for a bike ride through downtown Pensacola, having a pint or three and learning about the history of the first city in America. After exploring downtown you can hop on the Pensacola Bay Ferry with your bike and be transported to the historic Fort Pickens area of the Gulf Islands National Seashore. The trail itself is flat with a few small ups and downs thankfully to vary things up a bit. The surface is paved making it suitable for any level rider. In the warmer months we recommend starting as early as you can do, as the heat gets intense quickly in the Florida sun. On this part of the tour you will be fully exposed to the sun so sunscreen is a must. In addition to all the history to be learned from the Fort Pickens area, it is removed from the tourist area of Pensacola Beach and offers beachgoers a chance to explore and experience a relatively unspoiled section of a Northwest Florida barrier island. This is a DIY tour. Plan on an entire day if you are adding on the Fort Pickens area. You will be riding on 1 speed beach cruisers, or you can opt for our 21 speed tandem cruiser. We can deliver bikes to your starting point and pick them up when you are finished, or you can call ahead and pick them up from our rental kiosk. Click here to proceed to the bike rentals page ›› Thanks for considering Hamilton Mountain Bike Tours as part of your vacation.
Tour vital stats
Length: Downtown mileage: Approx 7 mi.
                Fort Pickens Mileage: Approx 6 mi.
Elevation Change: none
Level: Beginner
Location: Pensacola Beach, FL
Trail: paved/shell/gravel
Trail Maps: View Downtown Map›› View Fort Pickens Map››
Trailhead: See map below
Island Cruiser Trail Tour Trailhead
Rental Kiosk
History & Brews Tour Gallery: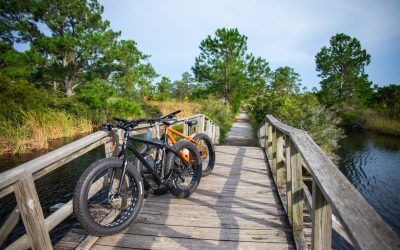 We have decided to add yet another tour in order to cater to the casual rider who wants a backcountry beach experience. This DIY (Discover it Yourself) tour meanders over a seashell trail through the beautiful Gulf Islands National Seashore at Fort...
read more